Douggie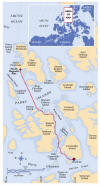 In her new book, Pam Flowers takes the reader behind the scenes for a close-up look at the early life of her lead dog, Douggie. From a mischievous puppyhood, to his struggle to overcome bad habits, and the sadness of missed opportunities, the reader is given a no-holds-barred look at the life of this amazing dog as he emerges from an unlikely puppy to become a stellar lead dog.

Now Available - get your autographed copies of Pam's new book here!

Click the map to your right to see the amazing route taken by Douggie.